Symbolic and animal oil painting, Italian format

The bee and death
Le Tutour Nicolas Professional
Height : 31.50"
Width : 23.62"
Weight : 2.866 lb
Unique artwork - Free delivery in France - For international delivery, please contact us
Celtland-Brittany
France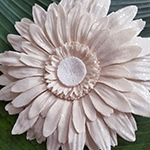 Solidarity and Ecology
2 200,00 €
Record n° G.pg-LETU-000229
Characteristics
Collection "APIS" - Oil on canvas NO.4 - French format
Life and death are only two sides of the same coin. The artist wanted to tell a story of our humanity, through its end: "many scientists see the sixth great extinction on earth coming, but it is ours... shadow and light interact, and it is likely that the most threatened species is not the one we think. From the disappearance of one, hope will be born for the other".
Description:
Faced with this skull, we see the Shapespearean drama of humanity and we say "To bee or not to bee"...
Availability: Immediate
Delivery time : 10-15 days
Returns: 14 days
Place of production: Celtland - Brittany
Method of Production: Manual
Rarity / World: 1
Rarity / KerluxY: 1