Symbolic and animal oil painting - Italian format

Sunflower
Le Tutour Nicolas Professional
Height : 23.62"
Width : 31.50"
Weight : 2.866 lb
Unique artwork - Free delivery in France - For international delivery, please contact us
Celtland-Brittany
France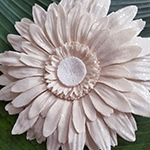 Solidarity and Ecology
2 200,00 €
Record n° Gpg-LETU-000228
Characteristics
Collection "APIS" - Oil on canvas NO.5 -Italian format
In his readings, the artist discovered the list of products fatal to the dear bees. One of these products particularly struck him. Terrible for the bees, this substance infiltrates the soil; thus, when the sunflowers emerge from the ground, they are already poisoned. The artist-painter tells about this drama and its cruel consequences.
Description:
On the canvas, two bees are foraging on a sunflower whose roots coming out of the ground are grabbing one of them. Innocence struck by unfairness, what justifies your existence precipitates you into death.
Availability: Immediate
Delivery time : 10-15 days
Returns: 14 days
Place of production: Celtland - Brittany
Method of Production: Manual
Rarity / World: 1
Rarity / KerluxY: 1