Symbolic and animal oil painting - Italian format

Past and Future - Apis
Le Tutour Nicolas Professional
Height : 3'37"
Width : 31.89"
Weight : 3.9683 lb
Unique artwork - Free delivery in France
Rest of the World, France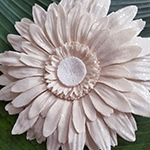 Solidarity and Ecology
2 500,00 €
Record n° G.pg-LETU-000223
Characteristics
Collection "APIS" - Oil on canvas NO.12 - French format
Here are put face to face the oldest and the contemporary.
This bee caught in amber, fossilized resin, seems to contemplate his fellow of our time.
Improbable meeting between two same individuals and yet so opposed: the disappeared become immutable and henceforth timeless facing the subtle living whose days are however counted... The future of one contemplates the reality of the other.
Availability: Immediate
Delivery time : 10-15 days
Returns: 14 days
Place of production: Celtland - Brittany
Method of Production: Manual
Rarity / World: 1
Rarity / KerluxY: 1