Animal oil painting - Bees an the apocalypse clock

Last act
Le Tutour Nicolas Professional
Height : 31.50"
Width : 23.62"
Weight : 1.9842 lb
Unique artwork - Free delivery in France - For international delivery, please contact us
Celtland-Brittany
France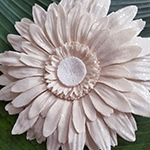 Solidarity and Ecology
2 200,00 €
Record n° G.pg-LETU-000333
Characteristics
Collection "APIS" nO13 - French format
In a world that has become cold and sterile, the apocalypse clock indicates that midnight has just struck: it is the end of the anthropocene. The two theatrical masks on the clock tell us that the curtain has just fallen on the human comedy, dear to Balzac, as a natural history of our society. The comic and the tragic reunited in their final scene. In this dead and cold world, the bees come out the ground and survive us. Dream or vision of the future? The 18 sparrows (18 being both light and shadow in its symbolism) on the horizon send us a message of hope. Nothing is ever lost. Hope, always hope...
Availability: Immediate
Delivery time : 10-15 days
Returns: 14 days
Place of production: Celtland - Brittany
Method of Production: Manual
Rarity / World: 1
Rarity / KerluxY: 1