Symbolic and animal oil painting, Italian format

Genesis 9 :2
Le Tutour Nicolas Professional
Height : 23.62"
Width : 31.50"
Weight : 2.866 lb
Unique artwork - Free delivery in France - For international delivery, please contact us
Celtland-Brittany
France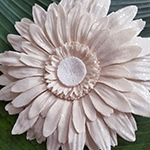 Solidarity and Ecology
2 200,00 €
Record n° G.pg-LETU-000221
Characteristics
Collection "APIS" - Oil on canvas NO.9 - Italian format
It was Theodore Monod, a great naturalist and humanist, who died more than 20 years ago, who inspired Nicolas Le Tutour. He was already denouncing the abuses of human activity, especially on the animal kingdom, and its disastrous consequences.
A fervent Christian, he taught the artist, in the course of an interview, that it was written in Genesis "The fear and dread of you will fall on all the beasts on earth..." It is impressive that such a quotation has its origins in such ancient times. As if destruction was part of our heritage.
The artist tells of the death of a bee, next to which another one has landed, touching it gently with its antenna. A light and simple gesture that sometimes seems almost unattainable. The scene is dark, blood has flowed, the surface is scratched, bruised, but the bee survives, in the light, too.
Availability: Immediate
Delivery time : 10-15 days
Returns: 14 days
Place of production: Celtland - Brittany
Method of Production: Manual
Rarity / World: 1
Rarity / KerluxY: 1